Within the framework of the project Promote deadwood for resilient forests in the Romanian-Ukrainian cross-border region (RESFOR) we covered the educational component, in particular, we developed an educational program for schoolchildren "Why the forest needs deadwood?" and published illustrated information guides in Ukrainian-English and Romanian-English versions. They also developed an educational and methodological manual for the university "Deadwood as a component of forest ecosystems" in Ukrainian and English versions.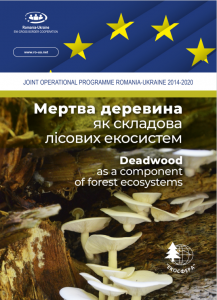 Deadwood as a component of forest ecosystems: educational and methodological handbook for universities / / Editors: Ya.S. Hasynets, R.T. Volosyanchuk, O.I. Stankiewicz-Volosianchuk. – Uzhhorod: RIK-U, 2022. – 128 p.
Educational and methodological handbook «Deadwood as a component of forest ecosystems» can be used for teaching bachelor's and master's programs at the faculties of nature sciences of higher educational institutions, where the role and importance of deadwood in forest ecosystems are considered: «Protection and rational use of forest ecosystems», «Principles of sustainable management of forest ecosystems» and «Ecosystem mapping and evaluation of their ecosystem services. It contains methodological materials on determining types of deadwood in forests, stages of deadwood decomposition, studying xylotrophic fungi and saproxylic insects as well as some groups of vertebrates that are closely related in their life to deadwood.
The handbook consists of an introduction, three chapters, afterword, and self-examination questions for each chapter. The handbook also contains a block of color photo illustrations that accompany the described methods.
The handbook was published within the framework of the project «Promote deadwood for resilient forests in the Romanian-Ukrainian cross-border region (RESFOR)», funded by the European Community through the European Neighborhood Instrument, Joint Operational Programme «Romania-Ukraine 2014-2020»